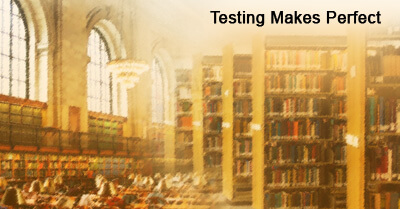 "Our customers are now able to find their way in our library with ease, even if they've never visit us before."
-- Operation Manager, Local Library
Release Date:2012

Book enriches our lives. Where exactly can we read all the books ever imaging with little or no fee at all? The answer would be library. Cities throughout the world have public / private libraries which allow and encourage everybody to read and learn. However, finding the book you want to read might be a little difficult than you expected. Within any modern library, there are usually thousands, or even millions of books spread out in various floors, sometimes even buildings. To locate the book, you have to search library's huge directory database using personal computers. The process could be very confusing for non-computer user. Generally speaking, you can either search your book using book title, author, or categories. Let's be frank, how many times can you actually remember any of that information? There has to be a better way to find the book you are looking for.

ZEBEX Z-7010 Series is an excellent potential candidate to bring a user-friendly solution to the problem. With the help of our software solution provider, Z-7010 Series can transform into a state-of-the-art kiosk information center to provide a complete solution package from ISBN scanning to advance book checkout process. Z-7010 Series is written based on .NET Framework platform for rapid deployment. Related resources (including source code, demo program, and programmer etc.) can easily be found on the market.
Our software developer works hand-in-hand with our customer to create a highly customized library directory. The 5.7" color display make the perfect medium for displaying host of information including test, pictures, and video. When visitors enter the library, he / she operates Z-7010 Series kiosk information center through touches. Floor assignments, telephone directory, and outstanding rental can easily be obtained.
The Solution
Simply scan any ISBN barcode and the currently location, availability, and a brief introduction of the book will be presented. The user can opt for static text/graphic display, or dynamic video for ultimate multimedia experiences. Visitor can follow the clear instruction to find the book they are looking for at the specify aisle, row and section. Confusion of books with similar title or author can be avoided since ISBN uniquely defines each book. If the book is not available, options of reserve a copy when available, or check for availability of other branches will be presented to visitor, making it easy to find the book he / she is looking for.
Checking-out / returning books are made even easier with ZEBEX Z-7010 Series. During checkouts, one simply scans the book they wish to rent with Z-7010 Series Omnidirectional barcode scanner to complete the process. Book title and due date will be then be display on the screen. The process is then followed by scanning his / her personal librarian ID card to record the rental. Returning the book is even easier. Scan the personal librarian ID card to display and list out all the rental books plus the due date. Scan the returned book into the scanner to complete the returning process.
Here at ZEBEX, we strive to provide the "complete solution" to our value customer. We combine the best-in-class industrial design, powerful performance, and easy to use functionality into one affordable package.
Of more than two-decade experience, ZEBEX' products have now spanned into every continent (apart from Antarctica). No matter what your applications are, ZEBEX can provide flexible hardware and the necessary development tools to satisfy the demand. To know more about our products, please contact your sales representative.