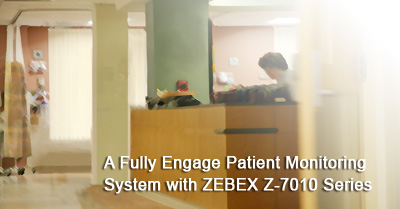 "With ZEBEX Z-7010, we are able to provide a higher level of medical care while reducing management overhead!"
-- Manager, Healthcare Provider
Release Date:2012

The Background
Patient monitoring is perhaps the most critical yet delicate aspect in healthcare industry. Once patient is admitted into hospital, physicians and nurses need to constantly monitor and provide all types of treatment if necessary. Given the sheer distance and limit resources, it is usually difficult to provide the same level of healthcare to every patient. Health care providers are always on the lookout for new ways to improve the efficiency of treatment dispensing process.
With traditional patient monitoring system, patient trigger the build-in, voice only communication system for medical attention. A complicated monitoring system needs to be installed which incur high cost. Nurses need to man the ward at all time to ensure the treatments are given in a timely manner. Due to the complexity of the system, sometimes it is necessary to provide a brief training on the care giver for maximum efficiency and reliability.

The Solution
ZEBEX Z-7010 Series will be install in the central nursing ward for centralize management. Special application written based on .NET Framework will also be installing on the data terminal to provide an easy, trouble-free monitoring experiencing for the care-giver. Trigger mechanism will be installed separately into each patient's quarter. When attentions are needed, patient will simply press the trigger to notify nurses. Traditional serial connection will be used to connect patient's quarters to central nursing ward reliably with relatively low installation overhead.

After triggering, care-giver will be notify on the bright, LED screen of Z-7010 Series with both audio and visual notification. ZEBEX Z-7010 Series is able to handle multiple incoming requests at the same time. A split-screen mode will ensure all the patients are been given the same level of medical treatment they required.

The Benefit
With the implantation of such monitoring system, customer is able to reduce the operation overhead by 15 ~ 20%. By removing traditional PC-based monitoring system with intuitive, touch-based kiosk information system, training procedure could also be greatly simply as care-giver simply touch the screen to navigate around the system to provide healthcare treatments.

Here at ZEBEX, we strive to provide the "complete solution" to our value customer. We combine the best-in-class industrial design, powerful performance, and easy to use functionality into one affordable package.

Of more than two-decade experience, ZEBEX' products have now spanned into every continent (apart from Antarctica). No matter what your applications are, ZEBEX can provide flexible hardware and the necessary development tools to satisfy the demand. To know more about our products, please contact your sales representative.