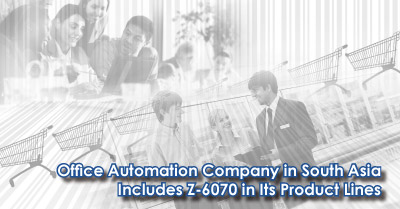 "We are glad to find the quality products designed and manufactured in Taiwan. What's better, the short geographical distance means quick aftersales support, reasonable transportation time and expense."
-- CEO of the Office Automation Company
Release Date : 2011
The Background
South Asia is home to over one fifth of the world's population, plus the boost of domestic demand, making it an increasingly vital market. Based in Taiwan, ZEBEX is located near south Asia and has put lots of efforts in exploring and maintaining this region, continuing to create business success with our valued distributors.
Because of the colonization background, countries in this region are usually young but of long developing history. One of our business partners, for example, provides office automation solutions, including computing, copying, printing, and POS. Its parent company is set up in the 1840s and is now the largest business group in its country. Currently the Group has 70 members and more than ten thousand employees nationwide. Its business interests are diversified, covering transportation, logistics, leisure, property, retailing, financial service, and information technology.
The Opportunity
Since more and more of the Group's business activities were in need of auto ID solutions, they expanded their business scope to the IT industry and set up the Office Automation Company in the 1990s. That is, our business partner is not only a company to satisfy the growing needs of office automation technology in the corporate sector; it also plays a pivotal role in the Group's IT sector focus.
According to the Group's policy, its subsidiaries are required to buy products/services that are sold by other group members. In terms of barcode scanners, its chain supermarket is the first to adopt ZEBEX products. In the past, the supermarket used scanners of an international brand. They needed to buy the machines from the brand's distributor and the price was high. Now that the Office Automation Company has its own scanner product line, they can use their own products for counter payment and other auto ID applications.
The Solution
The Office Automation Company decides on ZEBEX mainly because we have a wide range of omnidirectional barcode scanners, from handheld, hands-free to in-counter and module. Able to compete with international brands, our products are of reliable quality and fair price. The customer is also happy about our on-time delivery and immediate response to inquiries, may it be rush order requirement or technical questions.

In the case of middle-sized supermarkets we recommend Z-6070 omnidirectional laser scanner. Z-6070 is equipped with ZEBEX unique dual-laser technology to offer lightening quick reading speed. It shortens customer's time in waiting and improves work efficiency; its small footprint takes little counter space.
When necessary, Z-6070 has buttons at side to transform multiple laser lines into one for aiming at specific barcodes. Users can also lift the machine off its stand to read barcodes on items to large or bulky to be put on the counter. In conclusion, it is an ideal choice for retailing and other work places of large traffic volume.
The Benefit
Different parties in this business case take different advantage of the use of ZEBEX products. The Supermarket replaces a high-priced business tool and cuts cost; the Office Automation Company creates a profitable new product line; the Corporate Group increases sales revenue with its members cross selling to each other.
ZEBEX is glad to cooperate with this tycoon-class Group of more than onehundred- year history. The application in the Supermarket is just a beginning. Considering its business scale, there will surely be more cooperation opportunities in the near future.
Of more than two-decade experience, ZEBEX is your reliable business partner in the auto ID industry. We are confident in helping you achieve your success. Contact ZEBEX to know more about our products. now !