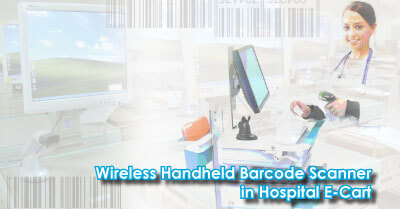 "I like to have E-Cart help our daily operation. With its wireless barcode scanner, now I can check the patients' identity without waking them up and record my treatment without a pen and paper. I believe it benefits both the patients and medical staff. "



--Nurse
Release Date : 2011

Wireless barcode scanner, for example, is one useful tool for medical staff. ZEBEX has successfully introduced Z-3050BT wireless handheld CCD scanner into the health care industry. Together with our business partner, one System Integration solution provider, we build E-Cart for a prestigious general hospital in Taipei.
The E-Cart is a multi-function wireless work station with a computer, a wireless barcode scanner, all kinds of medicine and medical supplies. Nurses push the carts to wards and provide treatments for patients.
At the time patients register for hospitalization, they would be given a number that appears in barcode format on patients' wristband and every related document. It is to automatically record the medical process and prevent human error.
For example, when nurses are dispensing description, they use Z-3050BT wireless scanner to read barcodes on patients' wristband to confirm their identity and the medicine they are supposed to take. Even if the patients have dementia, have difficulty in communication, or in coma, nurses can still give the right medicine to the right person.
The use of barcode scanner is also an important step for the buildup of medical record and care record. Medical staff read barcode on patient before a treatment or examination; then the treatment or examination result is automatically recorded in their medical history.
In short, barcode scanners help to reduce mistake and spare paper work; wireless means convenient mobility and no tangled cable attached; CCD optical system gives no laser radiation and no possible harm to users and patients.
In addition to the above success case, ZEBEX believes that auto ID technology has more to contribute to the health care industry. Whatever you niche application is, contact your sales reprehensive now and let ZEBEX satisfy your needs !