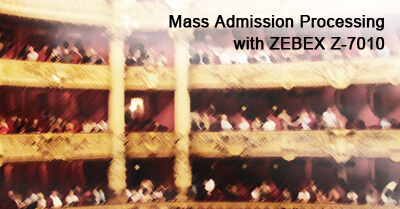 "We are now able to double our guests processing capacity after implementing the total solution from ZEBEX!"
-- Show director
Release Date:2012

Musical, the way of life
There are various opera house/theater through the entire Europe. Given the popularity and cultural roots, hundreds, sometimes even thousands of audience.
Flocking in to enjoy honor this cultural tradition. Given the nature of these events, corporation behind the mega event are looking for ways to serve and process audience in an orderly fashion, while maintaining below budget. Scanning speed and reliability would be the key features to either make, or break the deal. Traditionally, someone has to be around the main entrance to process the audience, including admission tickets, seat guidance, and presenting a brief show schedule / outline.
A modern opera house these days can easily host at least 10, 000 audiences. A typical building will have numerous entrances to divert the traffic. Employees need to be deployed at all entrances to process the guest. This creates extra management efforts and high level of customer satisfaction is difficult to maintain. With proper application, ZEBEX Z-7010 Series can be configure as automatic kiosk stand to process admission stubs, providing seat assignment guidance, and to display a brief show schedule for marketing purpose.
The Opportunity
Africa is a continent of abundant natural resources and its strong domestic demand boosts economy growth. The region is getting urbanized and the government is improving infrastructure. The increasing number of places like shops, supermarkets and factories means the need of more barcode scanners.
In this circumstance, ZEBEX is lucky to have a remarkable distributor in one of Africa's largest economies. The company has technical background; its engineers write computer software and do product maintenance. It sells a variety of computer peripherals, including barcode scanner, POS and data collector. We knocked on its door with entry-level handheld laser scanners. After the relationship and mutual trust were built, we introduced it ZEBEX omnidirectional products. Now it carries 30% single-laser devices and 70% omnidirectional ones, mainly Z-6082 in-counter scanner and Innova Z-6170 hands-free scanners.
The Solution
We partner with local software solution provider to develop a highly customize, WinCE .NET based application to fulfill our customer. There are three sub-functions, scanning admission stubs, seat information, and promotional material display. The state-of-the-art scanning engine on ZEBEX Z-7010 Series with Omnidirectional scanning capability is able to process batch number of visitor consecutively with no error. Visitor simply "wave" the admission ticket at the barcode scanner from any direction, and the omni-scanning engine will pickup and decode the barcode swiftly. After the barcode has been successfully decoded, seat information and direction to the seat is then display on screen. Visitor can simply follow the instructions to their seat with ease.
After processing the admission, additional Z-7010 Series can be deployed to display a highly interactive, touch based marketing clip for a brief show schedule. A quick bio of the main actor / actress, contact information of the show conductor, and future show schedule are all bundle together into a package to grab attention of the potential visitors.
By implementing the new system, visitors are able get in to theater faster then they once can without increasing the needs to hire additional workforce. In addition, real-time admission statistic can be recorded and send back to management team for critical business decision. Stored data can be query based on different criteria, further enhancing the uniqueness and strength of ZEBEX Z-7010 Series as the ultimate solution in ID automation. Z-7010 Series can be configure according to customer's special needs and request. Either Wifi or traditional Ethernet cable can be added for all types of installment. APFM allows for a easy, hassle-free deployment with minimum human effort as Z-7010 Series can practically install and configure all by themselves.
Here at ZEBEX, we strive to provide the "complete solution" to our value customer. We combine the best-in-class industrial design, powerful performance, and easy to use functionality into one affordable package.
Of more than two-decade experience, ZEBEX' products have now spanned into every continent (apart from Antarctica). No matter what your applications are, ZEBEX can provide flexible hardware and the necessary development tools to satisfy the demand. To know more about our products, please contact your sales representative.