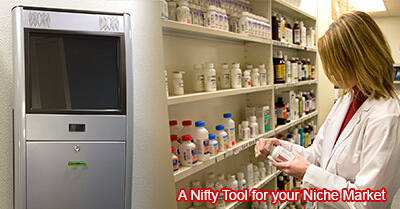 "The service here is great. The wait time is a lot shorter after they put in the kiosks and I have found the pharmacists to be much more attentive to what I report to them."


-- Store customer
Release Date : 2015
Overview

Thanks to the 2D barcode technology, self service systems are becoming more versatile and omnipresent. Take pharmacy for example, in effort to reduce lines at the counter, major drug chains all over the world are starting to use self-serving kiosks to lend helping hands to their pharmacists; not only do these kiosks allow price checks on barcode items, they let patients review drug information such as dosage, ingredients, side effects, etc. Embedded with a 2D barcode scanner, the kiosks also enable patients to scan a QR code sent in advance to them by the pharmacy. The code associated with the QR code allows the pharmacy to prepare the desired prescription while the customers are waiting in line.
In other words, the kiosk is helping pharmacists with all their routine daily works giving them more time counseling and giving recommendations to their patients on medications and clinical services as well as answering questions that might be more crucial to their health.
With pharmacies becoming more accessible to consumers, more and more patients are turning to their local pharmacists when they have questions about their health. And with a smart self service system in place, pharmacists now have more time to interact with their patients. It helps them better connect with their patients and improves the health care they provide.
The solution
The requirements of bulk information storage on the prescriptions can be easily met with by 2D barcodes. Equipped with powerful 2D scan engine, Z-5252 hands-free 2D image reader series by ZEBEX decode most popular 1D and 2D barcodes with quick and accurate performance and have strengthen its application to where smaller counter space is available.
Z-5252 brings the benefits of 2D barcode scanning to a variety of OEM devices: POS systems, medical instruments, ticket terminals, vending machines, manufacturing automation, and more. The Z-5252 series include customized engines: the Standard working range, High density decoding, and Driver's license optimized. They can be easily interchanged when upgrading or modifying your OEM device.
With a small form factor and mounting holes reserved, Z-5252 can be mounted anywhere for all kinds of niche applications, benefiting any embedded use with ease. The powerful 2D image readers are perfect for working places that deal with mass information and require strict accuracy, such as healthcare, medical service and information kiosk. Find Z-5252 to be the best supporter in your niche markets!
Concept and implementation
Summit DIS BV, The Netherlands