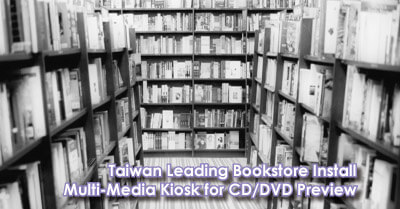 "Nowadays customers have many choices, sometimes maybe too many. Among the thousands of albums on the shelf, people don't know which is good—the best selling one isn't always your beloved one. In this circumstances, customers may just buy nothing. This is why a good CD/DVD preview device is crucial. We offer customers a chance to buy the ones they really like."



-- Store Owner
Release Date : 2011
Headquartered in Taiwan, ZEBEX has close connection with many system integrators on the island. Since our cooperation is mostly pleasant and successful, when one bookstore turned to an international SI provider for IT system advancement, the SI came to ZEBEX for barcode scanning solution.
ZEBEX is thrilled to participate in the project because this is one of the largest bookstore chains in Taiwan, featuring a unique taste and operating more than forty stores in Taiwan. It is the palace for book lovers; many foreign visitors even list it the must-see place in Taiwan. It sells books, stationeries, gifts, music, films, and many other items. Our job is to help provide a multi-media kiosk for its selective audio/video shops, allowing customers to preview CDs and DVDs.
The SI chose ZEBEX because we have long-term cooperation history, complete barcode scanner product line and responsive service. In this project, for example, to keep the kiosk compact in size, easy in operation and quick in response, the kiosk needs a small scan module with large reading filed. Only few products in the market can satisfy such requirement; among them, only ZEBEX A-50M is designed and manufactured in Taiwan. Our omnidirectional scan module has 20 laser lines and proprietary decoding technology Z-SCAN+. Its reticular scan pattern can easily read barcodes near its scan window. Besides, during the design-in process, our engineers provide immediate service and local filed support, including mechanical design and software programming.
The kiosk is so user-friendly that customers can operate the multi-media kiosks with intuition and enjoy the audio/visual preview by themselves. Customers simply pick up their interested items, present the barcode to the machine and then they can watch or hear the content. The multimedia kiosks received pretty positive feedback from customers and soon became an indispensible sales tool for the bookstore.
Our business partner successfully carried out this project and ZEBEX is proud to be part of it. ZEBEX has abundant experience in helping customers in all business sectors fulfill their customized requirements. No matter what your niche application is, let ZEBEX help you make it!