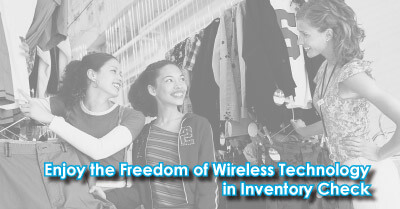 "Every customer wants us to put them in the firstplace. With the wireless barcode scanner, I can stand by the customers to answer theirs questions while giving them eye contact and smile. This make them feel respected and well served. I believe this is the key to customer satisfaction."


-- The clerk
Release Date : 2011
ZEBEX Z-3051BT is a handheld laser scanner with wireless connection ability. Wireless means no string attached. Users can walk around with the scanner; when the user walks out of the range, the embedded flash memorywould store the data and automatically pass it over to the receiver once inside the range again.
Such a wireless scanner is a helpful tool for various applications. Here is an example of how our end user, an apparel retail shop, applies Z-3051BT to inventory management and how the staff benefits from its functionalit.
The end user is an apparel chain store in West Europe, offering a variety of clothing and shoes. Inventory check is an essential part of they daily operation and business service.
In the shop, each clerk has a Z-3051BT with them. When clerks need to check for customers whether there is stock available, they use Z-3051BT to scan the barcode on the item; the signal is then sent to the base station connected to the stock database system. As the scanner is programmed with different beep tones for different stock statuses, they can easily identify whether the item is available by the audio feedback. For example, the scanner gives a special tone when there is no stock; it gives another tone when the stock is between 1 to 10 units.
The scanner works perfectly with the inventory check system. Its wireless signal with a working range up to 100 meters ensures data transmission in good condition. Furthermore, wireless means no clumsy and lengthy cable restraining the mobility of the staff in the shop. The staff does not need to go to the storeroom or the POS system to check the item's availability every time when there's a customer request. Work efficiency and customer satisfactionhave been improved greatly.
The users are pleased with the scanning sensitivity as well. The firstgood read rate is pretty satisfactory; the signal picked up by the base station and returns instantly. The base station is also a convenient recharger. The scanner would give a warning beeping when in low power and users can recharge the battery inside the scanner whenever necessary. So they never need to worry the scanner would be out of power while working.
For the retail industry, Z-3051BT wireless handheld laser scanner is a handy tool for inventory management. It can also help other business sectors improve work efficiency and realizewireless freedom. Contact ZEBEX to learn more about this truly reliable and convenient business tool!