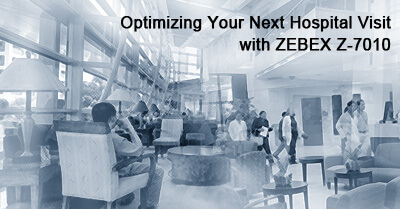 "With a large, easy to read, color LCD screen, even elderly citizens are able to find their way in the hospital with ease!"
-- Manager, Healthcare Provider
Release Date:2012

The Painful Experience
Hospital visit could be a challenging, sometimes painful experience. As hospitals are increasing services, they need bigger infrastructure (bigger building!) to accommodate the increase in medical instruments and personal. For first time visitor, getting around in these mega hospitals could be overwhelmingly confusing. Various examinations and doctors are usually spread throughout different floors, even buildings. Patient or visitor need find their way to get familiar and navigate themselves through all the necessary departments, submit the correct form, conduct the medical exam, fulfill the payment, then finally pickup the medicine on the way out.
Traditional guided signs and personal are usually the solution to combat the above stated problem. Depend on the placement of the directional sign and how well train hospital personal are, navigating within the mega hospital could still be difficult. Wouldn't it be great if there is an automatic kiosk information center which provide clear sets of instructions and guide the patient / visitor to their destination to increase efficiency and productivity?
The Solution
With its vivid, 5.7" color display, ZEBEX Z-7010 Series will be installed near entrance and all major chokepoints to provide an easy way to direct traffic. Custom application will be pre-installed on the device via APFM to provide directional assistance under different scenarios, such as first time visitor, patient admission, or picking up prescription etc. Once the proper paperwork has been obtained, visitor simply scan the barcode printed on the document with Z-7010 Series state-of-the-art scanning engine, it will display their next destination with clear direction. Visitor can follow the instruction and proceed to the next station with minimum effort.
Once the all the examinations have been completed, Patient will use the barcode on the prescription to pay and pickup the medicine to avoid any chance of mistake. If one should return to pickup prescription medicine, he / she simply scan the prescription authorization barcode and the correct medicine can be prescribe with minimum human effort. When not in used, Z-7010 Series can be easily program into video playing mode to display smooth video for promotional purpose.
By implementing the new system, visitors are able to receive medical treatment faster then ever before. Hospitals are also able to reduce staff and ZEBEX Z-7010 Series kiosk information station is able to provide a superior level of customer service with very little maintenance. Not only that, all the record been scanned to the system are recorded automatically and send to the backend data server for real-time analysis. Number of visitors, average serving timer per patient, and how many prescribe medicines are distributed can easily be printed for evolution. Staff performance and then be calculated by using the same set of database if required. The pre-installed program can be easily modified via FTP from a central management center, further reducing the maintenance effort by a landslide.
Here at ZEBEX, we strive to provide the "complete solution" to our value customer. We combine the best-in-class industrial design, powerful performance, and easy to use functionality into one affordable package.
Of more than two-decade experience, ZEBEX' products have now spanned into every continent (apart from Antarctica). No matter what your applications are, ZEBEX can provide flexible hardware and the necessary development tools to satisfy the demand. To know more about our products, please contact your sales representative.