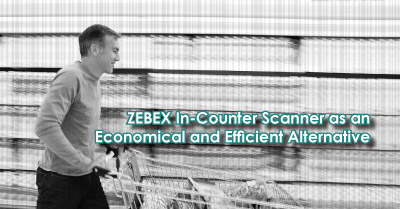 "Shikra fits perfect into the original bracket. For replacement, we just take out the old scanner and put in the new one; even no screw driver is needed."
"The new scanner works just as well as the old one. We are especially fond of its sound and tone adjustment touch panel. Now we can have different scanners give different audio indications to reduce confusion."


-- Clerk
Release Date : 2011
One of the essential distributors ZEBEX has in southern Europe is a young but energetic company established in 1993, providing POS systems and auto ID solutions. For middle-sized supermarket, they used an in-counter scanner of a top-three international brand to work with their own-brand POS system. However, while GS1 DataBar became more and more popular, their original choice appeared unqualified: it didn't support GS1 DataBar. When the global economic slumped in 2008, the distributor decided it was time to look for a more functional yet economic in-counter scanner to replace the old one.
After thorough research, they decide to use ZEBEX Shikra Z-6182. This in-counter scanner has the similar size as the original one so the end users can keep the original payment system and software. The replacement is pretty easy since Shikra can be perfectly fit into the already-existing bracket used by the old one. They just need to take out the old scanner and put in the new one, without even a screw. In addition, unlike other in-counter scanners in the market, Shikra can function vertically as well as horizontally, reading barcodes in both directions. This makes the operation more convenient.
Since Shikra is slightly thinner than the original scanner, there is a gap between the scan window and the table surface when the scanner is horizontally mounted into the original counter. The solution is ZEBEX customized a top cover to put on the scan window so the surface would be even. When the customer complained the back mounting plat was hard to install, ZEBEX studied the mounting procedure, found an easier way for installation, immediately revised and released the user's manual. Now the revised manual is available on ZEBEX website.
ZEBEX is also proud of our dynamic business model. We are able to meet the requirement, no matter hardware or software. Since the distributor sales POS systems with their own brand, ZEBEX prints their logo on the scan window and packs the scanner in a tailor-made color box. We also modify the firmware for their special applications and change the visual LED reading status indications to cater to end users' preference.
ZEBEX has the ability to provide world-class auto ID solutions. We satisfy customers with advanced technology, quality product and responsive service.
Contact us now for your niche applications!